Is "Social Media" Getting You Jobs ? – Partial Survey Results
Is Social Media getting you jobs ?

And what is more important -doing your job well or spending time on Social Networks trying to increase your " Social influence" ? And in any case just HOW do you increase your social influence ?
Edit Post
Add titleIs "Social Media" Getting You Jobs ? – Partial Survey Results
Well, to get some facts on at least one aspect of it, I did a Survey in 2014, the results as on early July 2014 were :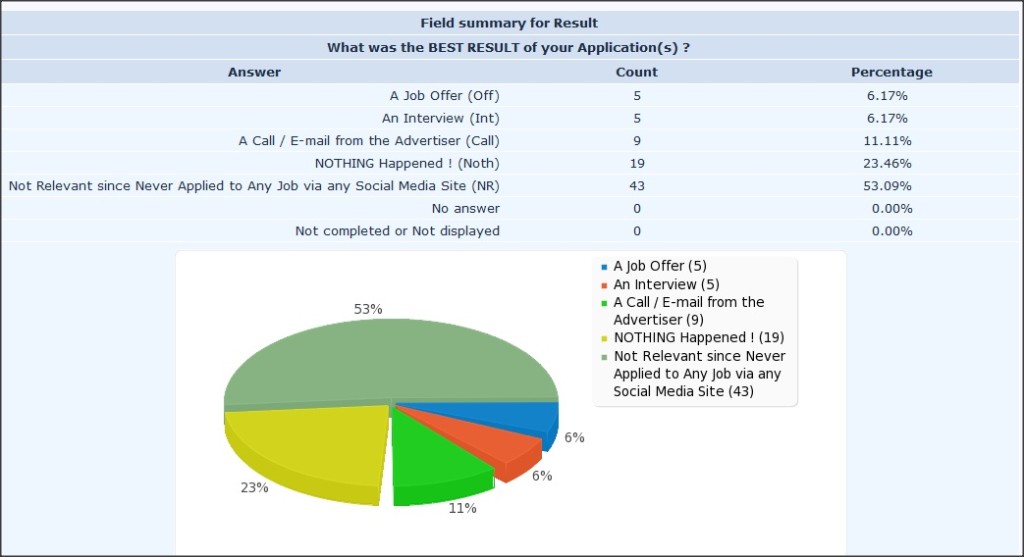 Survey Results as on 4th July 2014
The Question asked was : If yo have ever applied to any job via a Social Media site, what was the BEST result of your application(s) ?
Above / Hereunder are the Results as in July 2014 , for your own conclusions :
Exact Field summary for Result
Question : What was the BEST RESULT of your Application(s) ?
Answer Percentage
A Job Offer (Off) : 6 %
An Interview (Int) : 6 %
A Call / E-mail from the Advertiser (Call) 10 %
NOTHING Happened ! (Noth) 24 %
Not Relevant since Never Applied to Any Job via any Social Media Site (NR) 54 %
This is the Response Summary of one question.
So, out of the people who APPLIED, nothing happened to about 50% of the people.
Maybe I will revive the survey soon, to get the present situation in 2020-2021 !
Meanwhile, you are welcome to join the Linkedin India Jobs Group to share your experiences. Link as under !
Connect with me also on:
Twitter : https://twitter.com/mytopjob
Facebook : https://www.facebook.com/MyTopJob
LinkedIn: https://www.linkedin.com/company/my-top-job/
Open Discussion Group on LinkedIn to share Jobs, career tips and more – join in ! : https://lnkd.in/dtAbkCg