The RIGHT Resume' – The TPR's view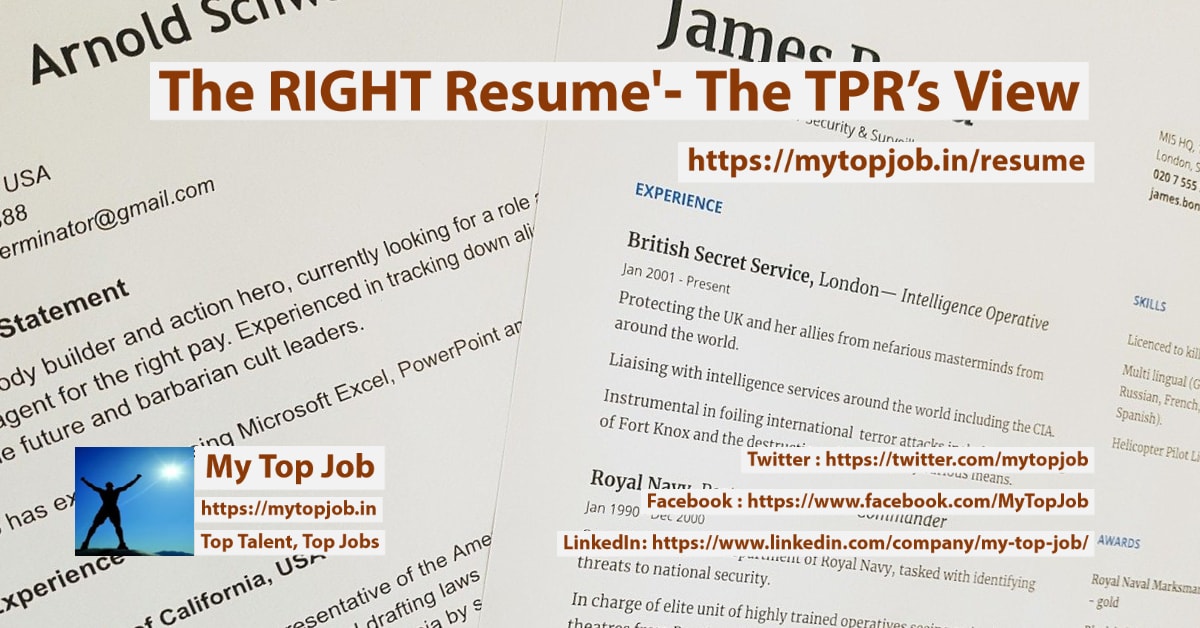 Resume's, CVs, Bio Datas, Career History – many names are put to this Document which is – supposedly – the starting point for anyone looking for a " Better Career " than his / her present one .
And there are several websites , consultants and softwares claiming to deliver THAT resume which will get you YOUR Dream Job ! Some of them are free – except for your time – and some of them cost you a fair amount of money !
But MOST of them do NOT consider what could be a critical link in your Job Search – the Third Party Recruiter ( TPR ) !! When you think about it, this gap is glaring since many positions are filled ONLY via TPRs ! More so when you are considering middle/senior level technical / Managerial positions.
During my several interactions with other TPRs and also based upon my experience I feel that many candidates fall short in this area. More than 90 % of the Resumes for any position are screened out by the Third Party Recruiter just on the basis of what is written therein and the "feel" it gives of the Candidate who wrote it. You may be the BEST candidate but you may STILL get screened out ! And sadly, most candidates do NOT seem to even realize this ! And then they wonder why their tremendous efforts, mass mailings, follow-ups etc are not leading to even a reply by the TPR !
Firstly, is very important for all to realize that the Third Party Recruiter is an independent business entity. He gets paid NOT to read/ evaluate CVs but to place candidates ! So, reading / evaluating is the means but not the end . Also, generally the TPR is in a race with others to propose the right candidates first. So, ANYTHING which makes his task more difficult / time consuming has that less a chance of
making the grade. Perhaps this is tough for most candidates to realize. But this is the truth !!
And – bluntly – the SOLE purpose of your CV is to ensure that you do NOT get screened out and proceed to the next stage – the INTERVIEW – for the Opportunity you have applied for !! Else all your efforts for applying to that position/ consultant are wasted.
Click here to +download and read on : The Right Resume'
Or just read in !

Connect with me also on:
Twitter : https://twitter.com/mytopjob
Facebook : https://www.facebook.com/MyTopJob
LinkedIn: https://www.linkedin.com/company/my-top-job/
Open Discussion Group on LinkedIn to share Jobs, career tips and more – join in ! : https://lnkd.in/dtAbkCg