Liar Liar ….pants on fire ?
Honesty pays.
Don't lie.
Be Trustworthy.
I remember there was a time values such as above were taken as a given. And a deviation was punished. Strictly and swiftly. Many of "my" generation would recall ( I surely do….:-)  ) the times we stood on our school benches – or were given a good slap – to atone one of corresponding sins.
Which is why perhaps, even now most of us would try not to deviate.
What now ?
Just focusing on the Job / Recruitment Industry, here is some interesting data for you !
Check out http://www.careerexcuse.com  which says :
Start your career search with the Internet's ONLY true site offering professional fake Job Reference Services since 2009!
Gap in Resume?
Bad Job References?
Too Many Part-Time Jobs?
WE CAN HELP !
The ONLY company serving disadvantaged job applicants SINCE 2009 !
On the other hand,
http://articles.timesofindia.indiatimes.com/2013-09-29/india/42501563_1_background-checks-authbridge-provident-fund
reports :
" Resume fluffing is a growing problem in the IT industry. Now, a Bangalore-based agency that conducts background checks of potential employees has compiled a list of 1,500 fake companies that have been established for the sole purpose of providing employment certificates for a fee. Candidates reportedly pay up to Rs 15,000 per year of certification."
With a nice little " infographic"  too !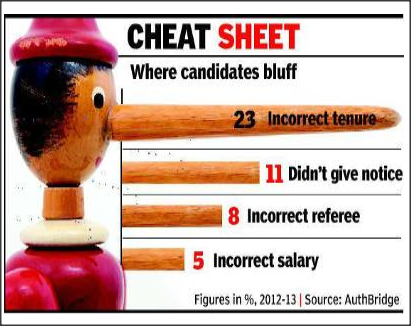 And if you want to look further, check out :
http://www.consumercomplaints.in/complaints/fake-companies-providing-fake-experience-certificate-c760629.html
which talks of many more !
So what's happening ? It is obvious that :
a) Candidates are not averse to lying, if it gets them the job they want. And as the employment scene worsens, so does their willingness to take that risk.
b) People are seeing a business opportunity in helping people fluff their Resume's.
c) And still further on, there is an opportunity for people/ companies who find out about "a" and "b" above so that the employers don't make costly hiring decisions !
While  " a" and " b" are transients- simply shut down one shop and open another,  "c" could be a more permanent fixture on the Recruitment scene…
IMHO fluffing also takes the form of :
a) Resume Writing Services : Which promises to fluff your CV with so many "employable traits " there is no way the next CEO job is not going to be yours J
b) Job Sites which allow one to keep multiple CVs. I have always wondered why !
About three years ago we were working on a Senior Level ( about Rs. 25 Lacs worth of position ) . CV sent in, series of interviews, offer letter ready pending the present salary slip of the Candidate .
When the Candidate tells us that he changed jobs some three months ago !
Offer not given.
I wonder what would have happened had this person been totally upfront ?
Your thoughts and experiences welcome.. why do you think people lie on their CVs… and are you – as an employer or a candidate – OK with that ?
[sc:NewsLetter1 ]