Stress !
This says it all on Stress and our Careers !
Feel free to add your thoughts…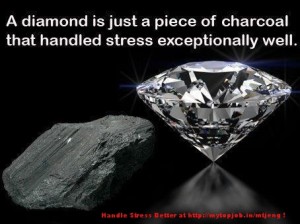 A piece of Charcoal when stressed…
may become a Diamond, better than the best !
To subscribe to our Newsletter and get Career Development Tips in your E-mail -please provide the following. All fields are required except the Profile Field where you may provide link to your Facebook / LinkedIn profile if you wish so that we may know you  little better.

Speak up! Join Us Here or on Twitter , Facebook or LinkedIn !
Have a Career Question ? Ask in !
Want to feature YOUR Standout here ? Suggest To Us !
Subscribe to our News Letter - Click Here !