Is "Social Media" Getting You Jobs ? – Partial Survey Results ( please participate ! )
Is Social Media getting you jobs ?

And what is more important -doing your job well or spending time on Social Networks trying to increase your " Social influence" ? And in any case just HOW do you increase your social influence ?
Well, to get some facts on at least one aspect of it, we started a Survey in 2014, the results as on early July 2014 are :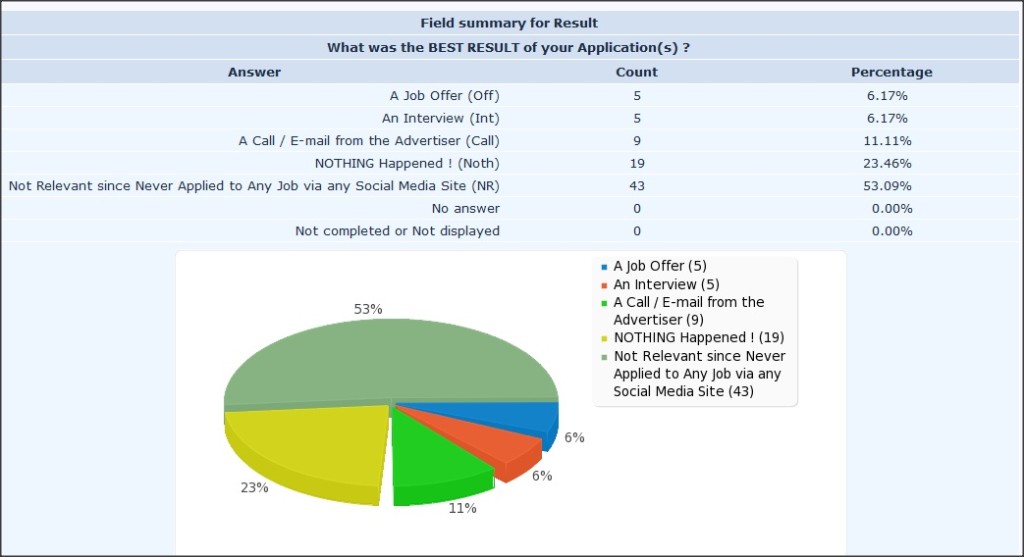 Survey Results as on 4th July 2014
To get the current picture, I have REVIVED the survey and  you can find it at :
Title : 'Effectiveness of Job Ads on "Social Media " like LinkedIn, FaceBook, Twitter etc.'
Survey at : https://mytopjob.in/polls/index.php?sid=86816&lang=en
Or Via : http://tiny.cc/mypoll
Above / Hereunder are the Results as in July 2014 , for your own conclusions  :
Exact Field summary for Result
Question : What was the BEST RESULT of your Application(s) ?
Answer Percentage
A Job Offer (Off) : 6 %
An Interview (Int)  : 6 %
A Call / E-mail from the Advertiser (Call)  10 %
NOTHING Happened ! (Noth)  24 %
Not Relevant since Never Applied to Any Job via any Social Media Site (NR) 54 %
This is the Response Summary of one question.
So, out of the people who APPLIED, nothing happened to about 50% of the people.
HOWEVER, the Responses presently were only around 80 odd . Even NO response is a Response I suppose, but I want to make this a GENUINE Survey !!
So please, please DO participate – it will take less than two minutes " Momofuku " time ! To remind, the Survey can be found at :
Direct : https://mytopjob.in/polls/index.php?sid=86816&lang=en
Or Via : http://tiny.cc/mypoll
Once the Survey finishes, people who leave their E-mail Addresses may be sent a Comprehensive Report, spliced/diced in many MORE ways .
So please DO participate via the links provided above. ALSO please share this post  to all your friends so that they may put their views as well. Thank you !
PS : And if you want similar HR / Marketing Surveys to be set up for your organization, contact me ! Maybe I can set it up FREE for you !
[sc:MTJLinks ]